Flightpath is a small, New York-based digital marketing agency offering the full spectrum of online marketing services. Among its most popular services is search engine optimization (SEO), helping businesses improve their website's search engine ranking. 
Flightpath has a very small online presence, though, and its website is extremely bare, providing little information about its services. However, we've scoured the web and gathered as much information as possible to bring you the following Flightpath evaluation. Here, you will find details about the company's prices, customer service, main features, and more.
Flightpath: Plans and pricing
Unfortunately, Flightpath provides absolutely no information about its prices or the way it develops custom SEO solutions. It does appear to specialize in complete digital marketing packages, rather than any single stream (SEO, for example) on its own. 
Now, we did find one indication of the Flightpath's prices on clutch.co, a popular online review site. Here, its rates are listed as $25,000+ per project and $150–$199 per hour, which is standard for a high-quality SEO company. 
Ultimately, though, it appears that Flightpath develops custom solutions with custom prices for each new client it works with. Because of this, we'd encourage you to reach out to the team via the online contact form or one of its social media channels if you'd like more information.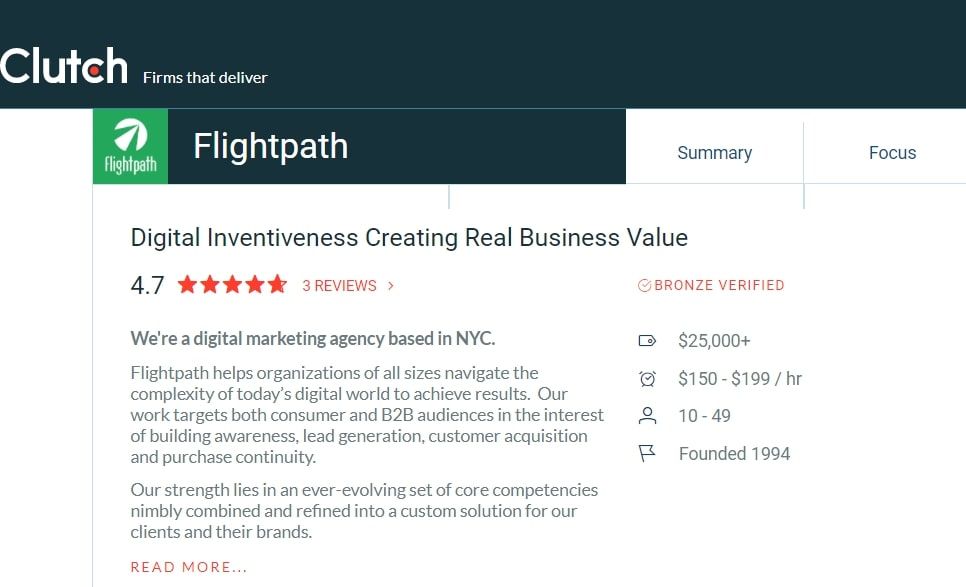 Flightpath: How it works
Once again, there is very little information available about how Flightpath operates. It doesn't provide any sort of service outline on its website, which is a little concerning. Really, it is nice to be able to at least have an idea about the way a company works before spending time reaching out to the team and

…