Valley Health System computer networks were restored Monday in the Las Vegas Valley, two weeks after after a cyberattack struck Universal Health Services medical facilities across the country.
"All six Valley Health System hospitals are online again, using the electronic medical records, lab and pharmacy applications," said Valley Health System spokeswoman Gretchen Papez.
Universal Health Services, which operates Valley Heath System, said it shut down computer networks across the U.S. following a cyberattack on Sept. 27. UHS operates more than 400 hospitals and clinical care facilities across the U.S. and United Kingdom. Only U.S. facilities were affected, according to the company.
UHS said it resorted to using "established back-up processes including offline documentation methods." One clinician in Washington, D.C., told The Associated Press that the loss of computer access meant that medical personnel could not easily see lab results, imaging scans, medication lists and other critical pieces of information that doctors rely on to make decisions.
Valley Health System facilities include Centennial Hills Hospital Medical Center, Desert Springs Hospital Medical Center, Henderson Hospital, Spring Valley Hospital Medical Center, Summerlin Hospital Medical Center and Valley Hospital Medical Center.
Other hospitals in the Las Vegas Valley said they had seen an influx of patients as a result of the Valley Health System's networks being down.
In a statement Monday, UHS said that its U.S. hospitals "are resuming normal operations." The majority of its behavioral health facilities also were back online.
UHS, a Fortune 500 company with 90,000 employees, said it had "no indication that any patient or employee data was accessed, copied or misused."
The attack was a suspected ransomware attack, in which hackers infect networks with malicious code that scrambles data and then demand payment to restore services.
UHS did not confirm that it was a ransomware attack or say whether
…
Apple has quietly removed the "Beats by Dre" webpage from its website ahead of its Apple event on Tuesday, as it prepares to launch a new, lower-cost HomePod and AirPods Studio headphones.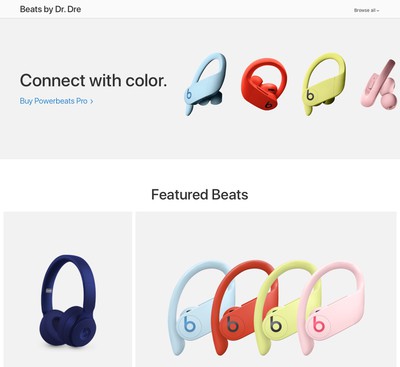 As noted by Apple Terminal, the landing page for Beats products can no longer be found on Apple's website. The Wayback Machine has a snapshot of the page in its original form from October 2, while the most recent snapshot from October 9 shows the page as down, suggesting Apple removed it sometime between these two dates.
Over the last couple of weeks, MacRumors has independently observed a gradual removal of all links to Beats' support website from Apple's own support pages. Apple also quietly retired its Beats Updater utility that lets users update the firmware of their Beats Wireless headphones, earphones, and speakers.
Apple still sells Beats-branded products on the headphones and speakers section of its online store. However, earlier this month, Bloomberg reported that Apple is no longer selling headphones and wireless speakers from companies like Sonos, Bose, and Logitech. Apple did something similar in the past, eliminating stock of fitness trackers ahead of the launch Apple Watch.
These moves all point to Apple readying itself for new product launches in the audio category. Rumors indicate Apple is working on several new audio products, including a smaller, lower-cost HomePod and high-end over-ear Apple-branded headphones that could be called "‌‌AirPods Studio‌‌," to be sold alongside the ‌AirPods‌ and AirPods Pro.
Both of these new products are expected to launch before the end of the year, and the removal of the third-party audio products from the online store suggests we could be seeing Apple's new audio devices soon, perhaps as soon as this week at Apple's "Hi, Speed" event on Tuesday, October 13, when it is also
…