As disclosed on the specs page for Apple's new HomePod mini, the diminutive speaker is Apple's first to support Thread networking technology.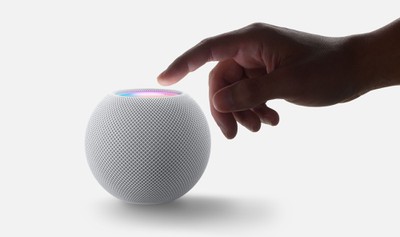 Thread is a low-power IP-based networking technology for connecting Internet of Things (IoT) devices, offering a secure, mesh-based system that makes it easy to build an ecosystem of devices.
While Thread is essentially agnostic to the application layers that run on top of it, it can support multiple layers and may play a role in Project Connected Home over IP, the alliance of Apple, Amazon, Google, and other companies that is seeking to make it simpler to build devices compatible with multiple ecosystems such as Siri, Alexa, and Google Assistant.
For the time being, however, Apple says in a footnote that ‌HomePod‌ mini's Thread support is limited to HomeKit devices, so the technology can't yet be leveraged cross-platform and it remains to be seen how Apple will embrace Thread going forward.
Apple is a noted supporter of the Thread project, with longtime Apple engineer Stuart Cheshire, who developed the Rendezvous/Bonjour zero-configuration standard nearly 20 years ago, serves as a director of Thread Group.
Apple's ‌HomePod‌ mini will be available for pre-order starting November 6, and it will officially launch on November 16.
PR Newswire
WASHINGTON, Oct. 7, 2020
Cisco's Internet for the Future routers and software will deliver key services for the Internet2 nationwide research and education network
WASHINGTON, Oct. 7, 2020 /PRNewswire/ — Internet2 today announced a strategic alliance with Cisco to deliver next-generation capabilities and software solutions across the U.S. research and education (R&E) infrastructure that enables scientific collaboration at a global scale. The new agreement between the two organizations focuses on delivering a national R&E network with increased capacity incrementing at 400 gigabits per second, on-demand cloud-connectivity, and a reduced carbon footprint that will remove 6681 metric tons a year of carbon from the environment. The agreement also includes collaborative opportunities for Internet2 and Cisco to support research activities and multi-domain service orchestration with campus and regional partners.
Cisco's selection was the result of a rigorous proposal process that was reviewed by networking experts from the Internet2 community and organization, and was part of the Internet2 Next Generation Infrastructure (NGI) program, which focuses on supporting the data intensive researcher, enabling campuses to connect to the cloud, delivering edge-to-edge performance, and creating a software enabled environment. 
"Research and education networks have never been more critical than they are today, and the selection of Cisco is a very exciting and critical milestone for the R&E community," said Howard Pfeffer, President and CEO, Internet2. "Cisco is supporting the delivery of a software-driven infrastructure that enables rapid deployment of new services and tight integration with applications and scientific workflows on the campus and in the cloud, both of which are essential to our nation's future. Cisco has also made substantial commitments not only to Internet2, but to the broader R&E community, by pledging
…
Comcast is offering new, upgraded hardware for its xFinity internet subscribers, with second-gen, range-extending xFi Pods that are twice as fast as the previous version, the company says. The new pods will work with existing xFi Gateways, with support for speeds of up to 500Mbps.
The new xFi Pods are available now starting at $119 each, or $199 for a two pack.
"As families spend more time at home and the number of connected devices continues to rise, connectivity across the entire home is more important than ever," said Dana Strong, president of Xfinity Consumer Services. "In fact, since March 2020, we have seen the demand for Pods double as families and individuals are retrofitting their homes into offices, movie theaters, doctors offices, and more, by doing all of those activities online instead of outside of the home."
Each xFi Pod is an AC3000 plug-in range extender, so they don't support Wi-Fi 6. They're tri-band, though, which means they can send and receive signals on both the 2.4GHz and 5GHz bands, along with a second 5GHz connection they can dedicate for system transmissions between Pod and Gateway. That tri-band backhaul approach typically makes for a more reliable mesh. Each Pod also includes two Ethernet jacks for direct, wired connections with your gateway or devices.