Mayple is a relatively unique digital marketing service provider offering a wide range of SEO, SEM, and PPC marketing packages, among others. Rather than directly employing a team of marketing experts, Mayple acts as a third party designed to connect expert marketers with new clients. 
In our search for the best SEO services, we decided to complete a full Mayple evaluation. We've looked closely at this SEO service provider and its main features to help you determine whether or not it's the best option for your needs.
Mayple: Plans and pricing
Unlike most top-end SEO companies, Mayple offers predefined packages. Unfortunately, it doesn't provide custom solutions, which will be a problem for many businesses because, as you probably know, everyone has different SEO needs.
Mayple's cheapest Essential SEO package is designed for small- to medium-sized businesses that need to build their online presence. It costs $1,800 per month and includes a range of content optimization, keyword analysis, link building, and technical optimization features. 
The higher-end Premium plan costs $3000 per month—significantly more than the Essential plan—but it doesn't seem to add a whole lot more. You get the benefit of SEO-optimized videos and images, along with link building to three domains instead of one, but to us, this doesn't justify the massive price jump. 
One very nice feature that stood out was Mayple's 30-day money-back guarantee. Basically, you can try the company's services and, if you don't like them, cancel within the first month and get a full refund.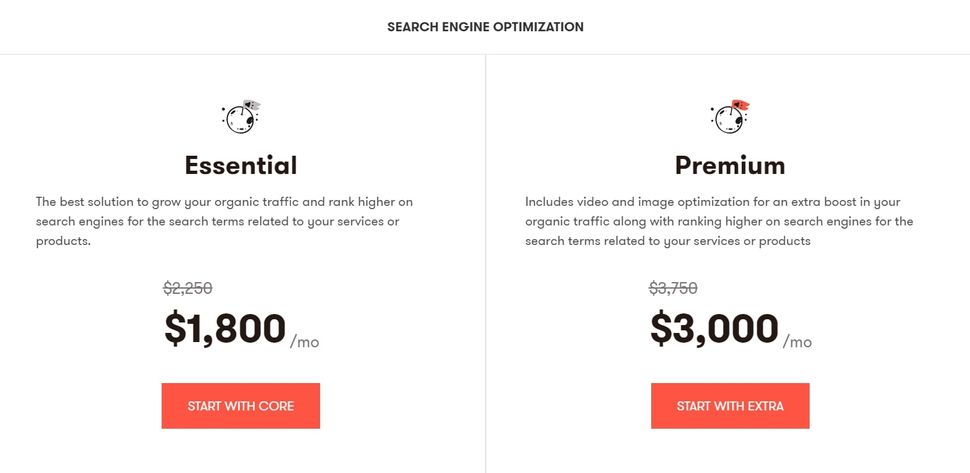 Mayple: How it works
Mayple works slightly differently to most SEO service providers. Rather than offering direct SEO services itself, it acts as a go-between that facilitates contact

…