At Australian Federal Court on Wednesday, Google was ordered to hand over evidence to the Australian Competition and Consumer Commission (ACCC) in relation to the watchdog's allegations that Google mishandled the location data of its users.
The evidence that is to be handed to the ACCC includes over 40 categories of information and data. 
Throughout the day, Google's legal counsel Robert Yezerski told the court he was concerned that handing over the evidence via discovery would postpone the case's decision as it is a time consuming and costly process. 
He also labelled the ACCC's allegations as "very narrow" and brushed off any references to Google's interface as being a "labyrinth of screens and processes", explaining that the allegations were only applicable to certain Google account settings and certain screens. 
"The case is very narrow and it's narrow in three particular respects. First it's narrow because it's limited to two Google account settings. These are not device settings and they're not app settings, being location history and weather activity," Yezerski said. 
"Second, it's limited only to statements made about the settings on Android mobile devices and, as I say, that's significant because these settings can be accessed on other platforms in other ways and there's no general allegation that everything Google ever said about these particular Google accounts was misleading — it's only in the context of users who accessed these settings in a particular way.
"Finally, it's limited to the specific allegations that are [misrepresented by the ACCC]." 
While Justice Thomas Thawley understood the case had significant public importance, he came to the conclusion that the matter's decision was not so urgent that it had to be heard this year.
Not all of the ACCC's requests for evidence were accepted, however. Thawley rejected the ACCC's request for information that was
…
Sony Music Entertainment, Universal Music, and a division of Warner have filed applications for a preliminary injunction against Apple for hosting three music apps in the Russian App Store that infringe copyright, reports TorrentFreak.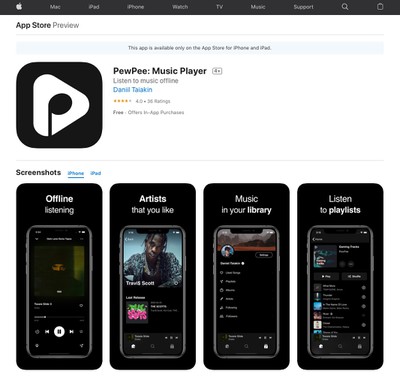 Roman Lukyanov, CEO of Semenov & Pevzner, a local law firm specializing in copyright protection and representing the labels, told Kommersant that the applications for interim measures against three apps were filed on October 1, 2020, listing Apple as the defendant.
The applications were filed at the Moscow City Court and request that local telecoms watchdog Roscomnadzor takes action "to stop creating conditions" that allow for the illegal distribution of copyrighted works by a handful of local artists.
One of the apps in question, PewPee: Music Player, offers users a Spotify-like experience where they sign up for a free account to access a catalog of music, listen to playlists and download tracks for offline listening. It's unclear where PewPee sources its music. According to TorrentFreak's source code checks, however, the app actually distributes MP3 files of the selected tracks.
The PewPee website offers the same free service using basic browser tools, but in a way that reveals the precise URLs of the songs, which can also be downloaded.
Another app mentioned in the complaints, iMus Music Player, lets users stream music tracks pulled from YouTube interspersed with ads. iMus is the 104th most popular app in Apple's "Music" ‌App Store‌ category. The third app, called Music Downloader & Player, offers users a similar ads-based streaming service, with music videos pulled from YouTube, track downloads for offline listening, and an optional paid ad-free subscription.
The complaints follow a new law that came into force in Russia last week and which is designed to quickly remove piracy-enabling apps from mobile app stores. The legislation requires digital
…
Twitter  (TWTR) – Get Report is reassessing how its misinformation labels appear and reach users, the microblogging site's head of site integrity told a news service.
The San Francisco social-media company currently attaches small blue notices to false tweets.
It is assessing how to make these signals more "overt" and "direct," Twitter's Yoel Roth told Reuters.
Roth made no mention of whether the changes would be implemented before the Nov. 3 U.S. election.
The changes will include testing a reddish-magenta color that is more visible, Roth told the news service.
Twitter reduces the reach of tweets that it labels for false content by limiting their visibility and not recommending them in search results, Reuters reported.
Feedback from users tells the company that they want to know whether an account has been repeatedly labeled, Roth said. Twitter will consider whether to flag users who constantly post false information, he said.
Twitter said it had labeled thousands of posts, including some tweets by President Donald Trump.
Since first labeling Trump in May, Twitter put gray warning overlays over 10 of the president's tweets.
In May, Twitter began labeling fabricated media, expanding its labels to coronavirus misinformation, misleading tweets about elections, and civic processes.
Twitter has been criticized for its transparency regarding its interventions, according to Reuters. The company doesn't keep public lists of when it applied labels or disclose data that would allow outsiders to assess how those labels affect the spread of a tweet or its reactions.
The company consults with partners, including election officials, on its labeling.
In September, the social-media company said it would label or remove tweets claiming election victory before the results were confirmed.
…