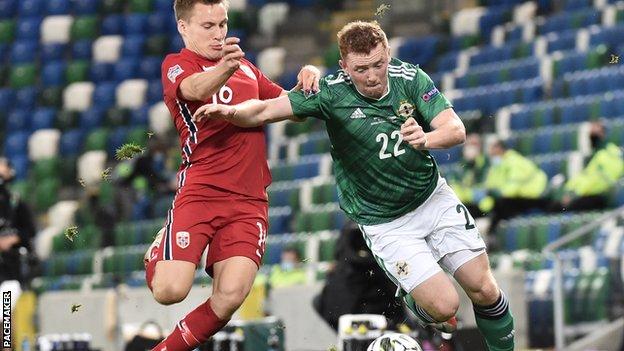 Venue:
Ballymena Showgrounds
Date:
Friday 9 October
Kick-off:
18:00 BST
Coverage:
Live on the BBC Sport NI website
Northern Ireland Under-21s will aim for only their second win of the current European Championship qualifying campaign when they host Finland at the Ballymena Showgrounds on Friday night.
Friday's match will be live on the BBC Sport Northern Ireland website.
Last month's 2-0 away victory in Malta was Northern Ireland's sole win in seven Group Eight qualifiers to date.
That was followed by a 1-0 home defeat by leaders Denmark – which was third loss of the campaign for the Irish.
Northern Ireland's tally of six points leaves only Malta below them in the campaign as they sit 13 behind the Danes.
Caretaker manager Andy Crosby includes Linfield's Shayne Lavery, Barrow full-back Bobby Burns, now on loan at Glentoran, and Livingston defender Ciaron Brown, who have all been part of Northern Ireland senior squads.
Watford midfielder JJ McKiernan, QPR midfielder Amrit Bansal-McNulty – who is on loan with Serie C side Como – and Brighton forward Ben Wilson have earned first call-ups.
Portadown striker Lee Bonis and Cliftonville and Linfield defenders Aaron Donnelly and Ross Larkin are retained in their squad after having their first involvement with the under-21s last month.
Northern Ireland will face second-placed Ukraine in Ballymena on Tuesday in another game that will be live on the BBC Sport Northern Ireland website.
Northern Ireland Under-21 squad
Goalkeepers: Conor Hazard (Celtic), Nathan Gartside (Derry City)
Defenders: Eoin Toal (Derry City), Caolan Marron (Glentoran), Ciaron Brown (Livingston), Kofi Balmer (Ballymena United), Jack Scott (Wolverhampton Wanderers), Daniel Amos (Doncaster Rovers), Ross Larkin (Linfield), Aaron Donnelly (Cliftonville), Nathan Kerr (Portadown)
Midfielders:
…
View of Ha'penny bridge on bright sunny day in Dublin, Ireland.
Stricter enforcement on Airbnb and short-term lettings in the Republic of Ireland are needed to protect the housing and rental market. 
That's according to housing activists and opposition politicians that believe regulations introduced last year need to be bolstered ahead of the difficult months and years ahead for the economy.
Last July, regulations around short-term rentals came into effect with a "one host, one home" model that is enforced by local planning authorities.
Eoin O'Broin, a member of parliament and housing spokesperson for Sinn Féin, the main opposition party, told CNBC that the regulations are sound but fall down when it comes to enforcement as the planning system is a "very slow and laborious process."
For Airbnb hosts renting out a room in the home that they themselves live in, there was little change.
However, for people renting out second homes, holiday homes and other properties that aren't their primary residence, they are required to obtain a "change of use" planning approval from their local authority. The regulations were introduced to encourage more properties back onto the long-term market. Rising rent costs in cities like Dublin have been a difficult policy issue as the average rent in the capital has risen to 1,709 euros ($2,010), compared to 1,252 euros in the same quarter five years ago.
However there has been a low number of short-term let planning applications filed with authorities despite the number of listings remaining high, as hosts avoid the lengthy application process.
"We always knew the regulations, even if they were good, would fall foul of weak enforcement if it was left to the local authorities. That's not a criticism of the councils, it's just the nature of planning enforcement," O'Broin said.
Ireland's Department of Housing,
…
Article content continued
Others received higher grades, and according to media reports in Ireland, colleges may need to create space for as many as 1,000 additional students.
According to The Irish Times, the government bypassed the normal tender process in awarding the lucrative contract to the Ottawa software firm, saying there was "insufficient time" to run a full procurement process.
The Irish government employed a provision reserved for cases of "extreme urgency" to award the contract, according to a Department of Education statement.
Polymetrika International Inc. was initially awarded a contract in May valued at 71,500 euros (approximately $110,000 CAD) for 65 days of work, which according to reporting by The Irish Times was for statistical services as a contingency in case final exams were cancelled due to the COVID-19 pandemic.
According to the Times, the Ottawa company was paid at a rate of 1,100 euros ($800) per day on top of that contract to provide coding services for a new "calculated grades" system.
Polymetrika has, to date, been paid 163,000 euros (approximately $250,000), government officials confirmed this week.
The data errors "should not have occurred," Ireland's minister of education Norma Foley told Parliament during a heated debate Thursday, with the opposition blasting it as a "debacle" and a "fiasco."
In a statement to The Irish Times and shared with this newspaper, a spokesman for Ireland's Department of Education said Polymetrika "has recognized expertise in what is a highly technical and specialized field."