AMC+, which includes content from AMC, BBC America, IFC, and SundanceTV, is available through the Channels feature in the Apple TV app as of today, according to AdWeek.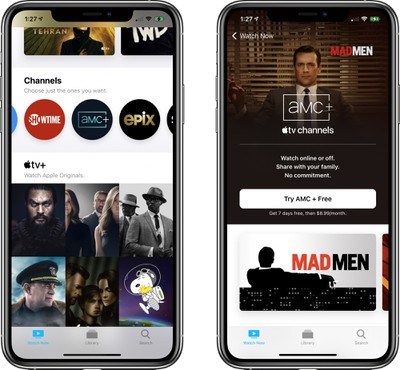 AMC+ provides access to ad-free programming from AMC channels and other streaming services like Shudder, Sundance Now, and IFC Films Unlimited, AMC library shows, and early access to AMC series before they air on TV. It also includes on-demand content and live feeds of AMC, BBC America, IFC, and Sundance, though live content will include ads.
Prior to today, AMC+ was limited to Comcast, Dish, and SlingTV subscribers, but there was no standalone option that did not involve a cable subscription. Subscribing to AMC+ through ‌Apple TV‌ Channels will cost $8.99 per month, with a 7-day free trial available to test it out. The service is also available through Amazon Prime Video.
Those who subscribe to AMC+ can get early access to the new "The Walking Dead" spinoff called "The Walking Dead: World Beyond," along with anthology series "Soulmates."
Apple introduced the Channels feature in a revamped ‌Apple TV‌ app that came out in early 2019, providing a way for ‌Apple TV‌ users to subscribe to standalone services right in the TV app. There are several Channels available such as CBS All Access, Showtime, Epix, Starz, Cinemax, and more.
By now it's a foregone conclusion that the cable TV networks that have been Hollywood's primary profit engine for decades are in a state of secular decline as entertainment conglomerates shift their energies to launching streaming platforms.
But just how this decline is being managed by these businesses while they continue to operate these channels has become painfully clear recently. 
Consider 2020 the beginning of pay TV's Potemkin era: Programmers' M.O. is to pull back content resources for cable channels and hope viewers won't notice or care about the difference.
Just look at Paramount Network, which ViacomCBS disclosed last week is rebranding to reflect new focus on a made-for-TV original movie powerhouse at the expense of airing unscripted programming and long-form scripted series. 
Then there's NBCUniversal's once mighty cable portfolio, which The Wall Street Journal exposed last week is living on borrowed time as brands like Syfy and Oxygen consolidate back-office functions. 
Earlier this year, AT&T CEO John Stankey told investors cable powerhouses including TNT and TBS would lean away from scripted in favor of unscripted as WarnerMedia's high-end scripted budget would go toward HBO Max.
And who can forget the disclosure that unscripted series "Ridiculousness" accounted for about 70% of MTV's 168-hour lineup at one point in June.
Surely it's no coincidence that many general entertainment channels have suffered double-digit drops in ratings lately. Those drops occurred as cord-cutting has accelerated in recent years.
But let's not forget what cornerstones unscripted shows have been to nets such as TLC, which has produced over 400 hours of "90 Day Fiancé"-related programming, and A&E, which has reportedly lost half of its viewers since dropping "Live PD."
As an increasingly economically challenged populace questions the value of their expensive pay-TV subscriptions, do any cable programmers really believe consumers won't notice
…
The Daily Beast
Marriage Equality Is 'in Danger,' Says Supreme Court Victor Jim Obergefell
Jim Obergefell, in whose name marriage equality became the law of the land in 2015 after he successfully presented his case to the Supreme Court, believes it is now "in danger" with the likely appointment to the court of conservative judge Amy Coney Barrett.Obergefell, 54, told The Daily Beast he has been dealing "with the feeling of devastation" over the death of Justice Ruth Bader Ginsburg. Now Judge Barrett's nomination has brought an "overwhelming fear about LGBTQ+ rights and women's rights and so many things," he said. "I feel what I, and the many other marriage equality plaintiffs fought for, is at more risk than ever before."Kiss Your Rights Goodbye When Amy Coney Barrett Joins SCOTUSObergefell didn't feel the same level of concern over the safety of marriage equality under the law when Justice Antonin Scalia died in 2016, as he felt Chief Justice John Roberts "put so much weight on precedents, and so I thought would have been on the side of keeping marriage equality. But if Judge Barrett is appointed, it's a potential 6-3 split in favor of conservatives. I'm concerned, I really am. I hate to say it, I really do, but I believe marriage equality is in danger. It makes me sick to my stomach."Obergefell is far from alone in his concern, which is echoed by LGBTQ groups and campaigners. The Human Rights Campaign (HRC) has called Judge Barrett an "absolute threat to LGBTQ rights," pointing to her questioning the role of the Supreme Court in ruling on marriage equality, and her opinion that the text of Title IX does not extend to explicitly protect transgender students. At a 2016 lecture Judge Barrett referred to transgender women as "physiological males.""If Amy Coney
…