Apple has altered its website to remove a page for "Beats by Dre," a possible sign that the company is shifting itself away from the headphone electronics brand in favor of its own name.
Since the purchase of Beats in 2014, Apple has promoted the popular brand at the same time as its own products, and in recent years technologies developed by Apple have crossed over to Beats devices. However, it seems that Apple is slowly moving from promoting Beats on its own website, by removing a prominent page about the hardware.
Spotted by Apple Terminal, the page in the online Apple Store for "Beats by Dr. Dre" listed the Beats products Apple sold, across multiple product lines. The list ranged from the wireless Powerbeats Pro earphones to premium over-ear models like the Beats Studio3 Wireless Headphones.
The exact date of when the page was taken down is unknown, but Wayback Machine results point to it happening between October 2 and October 9. Attempts to visit the page now result in a message stating "The page you're looking for can't be found."
Despite the removal of the page, Apple is still selling Beats products in its online store as usual. It is feasible that the page could have been taken down as part of a general tidying up of online assets ahead of Tuesday's special event.
Rumors about Apple migrating away from the Beats brand have surfaced since the high-priced acquisition took place, but so far the brand has been maintained and expanded upon by Apple.
One possible reason for its removal could be Apple's preparation to launch the "AirPods Studio," a pair of premium over-ear headphones that are rumored to provide AirPods Pro features in a more luxurious package. Thought to be
…
Apple has quietly removed the "Beats by Dre" webpage from its website ahead of its Apple event on Tuesday, as it prepares to launch a new, lower-cost HomePod and AirPods Studio headphones.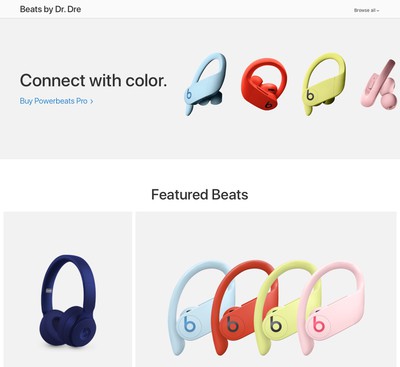 As noted by Apple Terminal, the landing page for Beats products can no longer be found on Apple's website. The Wayback Machine has a snapshot of the page in its original form from October 2, while the most recent snapshot from October 9 shows the page as down, suggesting Apple removed it sometime between these two dates.
Over the last couple of weeks, MacRumors has independently observed a gradual removal of all links to Beats' support website from Apple's own support pages. Apple also quietly retired its Beats Updater utility that lets users update the firmware of their Beats Wireless headphones, earphones, and speakers.
Apple still sells Beats-branded products on the headphones and speakers section of its online store. However, earlier this month, Bloomberg reported that Apple is no longer selling headphones and wireless speakers from companies like Sonos, Bose, and Logitech. Apple did something similar in the past, eliminating stock of fitness trackers ahead of the launch Apple Watch.
These moves all point to Apple readying itself for new product launches in the audio category. Rumors indicate Apple is working on several new audio products, including a smaller, lower-cost HomePod and high-end over-ear Apple-branded headphones that could be called "‌‌AirPods Studio‌‌," to be sold alongside the ‌AirPods‌ and AirPods Pro.
Both of these new products are expected to launch before the end of the year, and the removal of the third-party audio products from the online store suggests we could be seeing Apple's new audio devices soon, perhaps as soon as this week at Apple's "Hi, Speed" event on Tuesday, October 13, when it is also
…