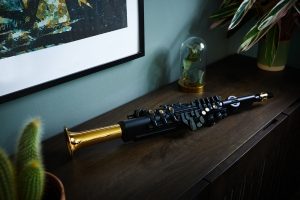 Yes, there is such a thing.
'Does it play itself?' was my first question, and the answer is no. But it does let you control the volume, enabling you practice anywhere without disturbing people. And with an associated app you can also adjust the tone and fingering options.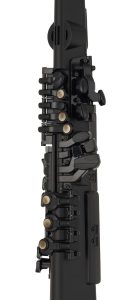 In terms of volume, it supports 15 gradations, and you can connect a set of headphones to play in total silence. So if you want to be the next Clarence Clemens you can always "turn it up to 15"!
In terms of its tone, the YDS-150 uses sampled sounds of Yamaha's soprano, alto, tenor, and baritone saxophones. These have been recorded, says the company, to produce 56 saxophone "voices". Other sounds, such as synthesizers, boost the total to 73 instrument sounds.
Yamaha states:
The YDS-150 was designed to be a saxophone that would allow anyone to experience the joy of performing, anytime, anywhere. The groundbreaking new wind instrument retains the full expressiveness of the saxophone, yet unlike an acoustic saxophone it can be as quiet as you want, making it more convenient and easier to play.

Yamaha's patented Integrated Bell Acoustic System is a fusion of traditional saxophone design and advanced digital technologies that offers the uniquely rich sound of an acoustic saxophone while also allowing you to enjoy playing without regard for time or place. Sound can be produced by simply blowing into the mouthpiece, while volume and tone can be carefully modulated using the intensity of the breath, resulting in a wind instrument which can cater to the expressive needs of both beginners and experienced players alike.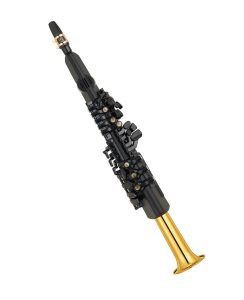 Pricing is £699.00 and the YDS-150 will be available from 30 October 2020.
You can read more about the Yamaha YDS-150 Digital Saxophone here and here.
What do you think of the Digital Saxophone? A worthy attempt to develop the instrument?
[Via New Atlas]