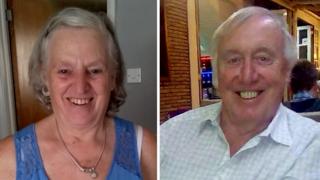 With little more income than the state pension, Christine Chapman is careful with her money.
The 70-year-old keeps paperwork meticulously in a filing cabinet and knows what is coming in and going out.
Her bills were cut by hundreds of pounds a year, simply by switching insurance, phone and mobile suppliers.
It all sounds like an advert for competition and the benefits of shopping around.
But Mrs Chapman was lucky.
Misplaced trust?
The widow, from County Durham, does not have a computer and does not know how to operate one. Her smartphone is only used for calls and messages to family and friends. She had no way of shopping around for better deals.
What she does have is a caring brother-in-law who taught IT and, after a conversation at a family gathering, realised Mrs Chapman was paying far too much on her bills.
"She has no computer, no email address, and a router was stuck in a drawer because she did not know what to do with it," says her brother-in-law Stephen Harris.
"She is like millions of vulnerable people in this country who do not have any knowledge of the internet but trust big companies to treat her right."
'Surprised'
Mrs Chapman was a victim of the loyalty penalty – someone who sees prices rise every year when policies or deals are renewed.
Take her home insurance. She had been a customer with the same company for more than 30 years and was paying a premium of £575 for buildings and contents insurance for a small three-bedroom terraced home.
Mr Harris researched like-for-like policies and within 10 minutes he had found one for £80.
"I was surprised," says Mrs Chapman. "I was a loyal
…